Events Information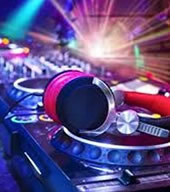 Eternal Sound believe in being open in how we conduct business. The biggest issue when booking a Disco is cost, and whether the client is getting value for money. This is why you will not find any prices on our site, due to every clients requirements being different. The key factors we base our quotes on are Equipment requirements, and Location of the venue.
We are even prepared to advise potential clients to look around locally if the cost is too high for the type of event being quoted for. This is how committed we are on giving the best service possible.

Every booking enquiry is treated with the upmost care, to ensure we cater for the clients needs.
When Eternal Sound receives a booking enquiry we give an estimated figure of the cost involved



Christmas and New Year bookings. The Christmas period is very busy for us, and we always have limited booking slots available during the season.
Unfortunately due to past Christmas events being booked as Birthday events, all quotes are calculated on our Christmas pricing structure.

NewYears Eve just like Christmas have limited slots available, and you will have to be quick to book us.
Unfortunately full payment will be required before all NewYears Events.